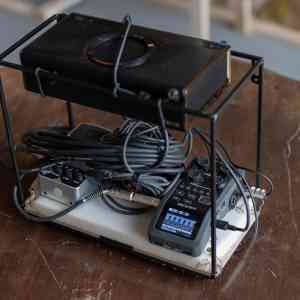 Felix Kruis, *1984, lives and works as a multimedia artist (ADBK Munich) and art historian (LMU) in Upper Bavaria.

Nikolaus Witty, *1986, is a freelance theater maker who has led performance and music project developments, most recently in Gent (Belgium), Munich, Darmstadt and Bangalore (India.)
"Reality Distortion Field" turns the bar Ribingurūmu into a walk-in sound installation: tables, chairs, bar counters or everyday objects are wired. Sensors, contact microphones and effect units for changing the sound make it possible to electronically change the everyday noises generated by the visitors. With the support of the Munich artist collective trugschluss the project is constantly evolving.