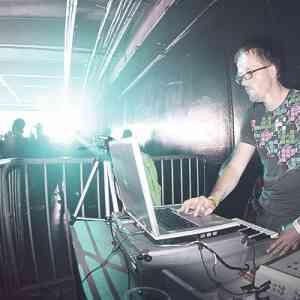 Eric Medine is a multimedia and video artist and CEO of TenTon Raygun. He has shown work in galleries and museums such as the Museum of Contemporary Art in Los Angeles, xm:lab and the Saarländisches Künstlerhaus in Saarbrücken (Germany), Los Angeles Contemporary Exhibitions, the Chicago Motion Graphics Festival, Faites des Lumières, and the LPM festival in Rome and Mexico City.

As a VJ and live visuals engineer he's worked with performers such as Major Lazer, Meat Beat Manifesto, The Orb, Batchass, Lila Downs, Infected Mushroom, Excision, Trash 80, Dan Wilcox, MegaRan and Grammatik.
Generative Visuals and Video Mapping using the Unity 3D Game Engine
Want to deform architecture using video mapping?

This workshop will cover the build process, from concept to completion, of a generative video mapping project using the Unity 3D game engine and Resolume Arena. Go from a cellphone picture of the front of some random building into an explosive canvas of video mapping. Destroy what others have built using motion control inputs, midi controllers, or a good old fashioned mouse and keyboard.

Topics to be covered: Live visuals creation in Unity3D and Resolume, Spout for Unity and Resolume, basics of C# programming.

This workshop requires a basic knowledge of 3D modeling and live visuals applications. Working knowledge of Unity 3D and Resolume Arena is helpful, but not required.

Link to demo:
http://ericmedine.com/liquid-s...
Please register via: workshop@shedhalle.de
Contribution towards costs: 20€ / 15€ reduced